Alejandro Capo Biography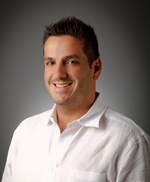 Some of Alejandro's proudest accomplishments have been the multiple companies he has built from the ground up that have had great success and that are still growing today.
Alejandro Capo has been a leader of the real estate industry in both the Bahamas and South Florida for over seventeen years. As CEO of Zero Nine, he has worked as a master planner, master builder and a long-term investor. Alejandro's success does not end with real estate; he is the proud father of two beautiful children and husband to an amazing wife. He has also been involved in multiple charity organizations including Baptist Health, the American Cancer Society, and other youth organizations. By providing jobs and fostering community development, Alejandro has significantly impacted the lives of many people throughout the South Florida and the Caribbean.
Alejandro was born in Miami and comes from a long lineage of developers. His family has developed over 30,000 units in the Caribbean and Dade County, from low income housing to high end, luxury properties. He has developed millions of acres, sold over 600 million dollars in real estate, and built over a hundred thousand square feet of commercial construction.
Through his childhood experiences in the industry, Alejandro gained extensive knowledge, making him unlike any other developer. He became familiar with all parts of the building process, from operating equipment to pouring floor slabs and installing windows. Because of these unique talents and abilities, Alejandro has been able to keep all the processes of development in house, driving down costs and increasing profits for developers.
Alejandro founded the company Zero Nine (named after his daughter's birthday) and built it from the ground up. His favorite part of development is teamwork and he has instilled this passion for working together in his staff. He has successfully created an environment where his employees are free to make decisions and come up with their own creative solutions to problems, making productivity thrive.
Alejandro's comprehensive knowledge of the industry becomes evident when asked why he develops real estate. "It's all I know," he answers, "I love the rush of the entire process: getting a raw piece of dirt, working with government entities, negotiating the deals and contracts, doing the infrastructure and construction work, selling it to the end user. Most of all, I love being able to give a family a dream home."

Careful consideration is given to each site's unique character, from the site's ecology and natural systems to the client's needs and expectations. Building requirements, services, infrastructure, budgets, staging requirements, and management are all strategically planned. We carefully study all aspects of our project's development so we satisfy our client while preserving the integrity of the environment and its location. Once the planning, analysis, and research are complete we move into construction with a clear and concise plan that puts purpose and fluidity into our actions until the completion of your project.
C

ommunication

Open communication is very important throughout the entire process. Keeping everyone on the same page is vital. From the design to the construction, we stay in constant communication with you on the progress of your project.